114,984
Monthly Pageviews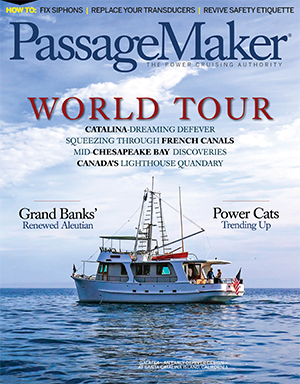 Passage Maker
PassageMaker Magazine is the portal into the cruising-under-power lifestyle. Here you will find articles and resources on trawlers, ocean motorboats, cruising destinations, and technical information, as well as what it means to live the cruising lifestyle. Hosting a nationwide events series called TrawlerFest, which brings the magazine to you, in person. TrawlerFest and TrawlerFest University teach you everything you need to know about this niche, and host a variety of land and water exhibitors to guide you in your search for the perfect trawler.
TrawlerFest is PassageMaker's stand-alone series of boat shows, specifically designed for cruising under power enthusiasts. Strategically located in key cruising regions nationwide, TrawlerFests showcase the nation's best in-water display of cruising powerboats, first class boating courses and demonstrations, all the latest in marine products & services, and rendezvous-style evening events and activities!
TrawlerFest is more than a boat show; it's where industry, education, and community come together in a relaxed, rendezvous-type atmosphere. TrawlerFest is an experience you simply won't want to miss!
VISIT WEBSITE